Indian Wedding Invitation & RSVP Card - Rangoli and Handmade paper band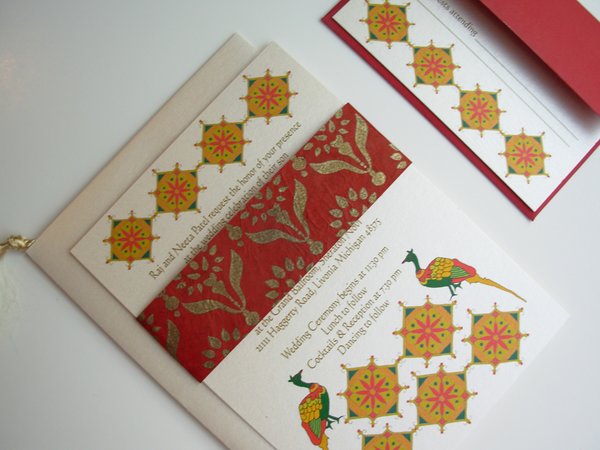 Need Help?
Contact Us
with a email or phone number and we will be in touch with you shortly!
---
ABOUT THIS PRODUCT

Mayur the peacock and the king of the birds! One of the several recreations of Mayur adorns this invite with a attractive paper band; simple but very classic Indian.
DETAILS

This set includes:
Flat invitation card with a 2" belly band
A7 size outer envelope
A1 size flat RSVP card
A1 size RSVP envelope
MATERIALS USED
Lotus and Peacock invitation and the RSVP card are printed on high quality ivory metallic card stock (paper type B, see Samvadiya Paper Classification under "Samvadiya Resources tab). The belly band is made from recycled handmade paper (Paper type E) with with 3 options:
Gold and red lotus print (limited quantity available right now).

Gold and red lace print (not shown here)
The invite and RSVP envelope is made from the ivory metallic paper of the same brand of lighter weight.
SIZE AND PRICING
This Assembly Includes
Format
Size
Invitation
Flat
5"x 7"
Invitation Outer Envelope
A7
5-1/8"x 7-1/8"
RSVP Card
Flat
3"x 5"
RSVP Envelope
A1 or 4 Bar
3-5/8 x 5-1/8
Note: Coordinating Wedding Stationery is available. Please email us for details.
PROOFING
Please review our policies for proofing under 'Policies and Procedures' tab before you place your order with us.
SHIPPING
Please review our shipping policies under 'Policies and Procedures' tab before you place your order with us.
INTERNATIONAL ORDERS
Please review additional policies on international orders under the 'International Customers' tab, before you place your order with us.
When you are ready to place your order, please enter the required quantity, desired delivery date and text for invitation and RSVP card in the space provided above.
Please note that we will confirm the delivery date upon the receipt of the order. If, you'd like to discuss the delivery date prior to placing the order, contact us or email us.
---
If you need to find out more about the product before ordering, we encourage you to reach out to us. Please use the Contact Us form or email us at info@samvadiyacards.com. We will be in touch with you within 24 hours!