Heritage from Samvadiya Cards - Wedding Invitation Sample Board (for approved Samvadiya dealers only)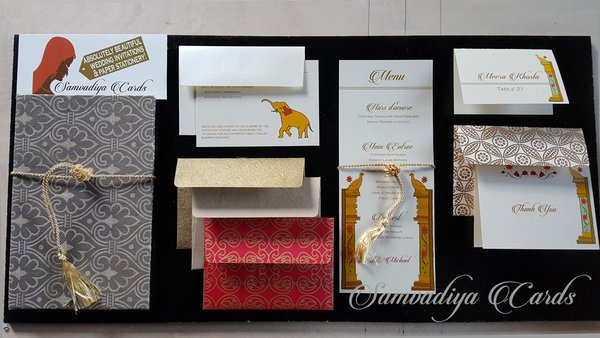 Need Help?
Contact Us
with a email or phone number and we will be in touch with you shortly!
---
ABOUT THIS PRODUCT

Absolutely beautiful display board that features 'Palace of Love' wedding invitation set and a range of coordination items. This board will help you showcase and present exquisite Samvadiya products to your clientele.
Only approved dealers may order this sample board. Dealer ID is needed to order. New and interested dealers are welcome to contact us here!

Some customization is possible upon request.

Some variation from what is shown in the photo may be inevitable due to

availability

of papers. Variations and customization will be

communicated

/ discussed upon order.
DETAILS

Includes:
MATERIALS USED
Palace of Love design invitation is printed on high quality ivory metallic card stock, hard bound with beautiful Asian handmade paper. Board also features other coordinating paper that may be suggested for customization: