A1/ 4 Bar Premium Envelopes - Eco Friendly Leather Finish Paper Tiffany Blue, for Special Commercial, Wedding and Corporate Stationery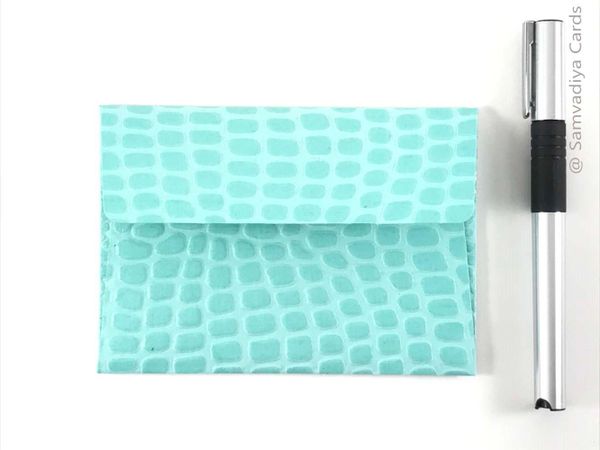 Need Help?
Contact Us 
with a email or phone number and we will be in touch with you shortly!
---
ABOUT THIS PRODUCT

For that understated elegance, Samvadiya offers handmade premium invitation envelopes - handmade in-house from the finest quality cotton paper. These envelopes are made from exotic leather finish paper in Tiffany Blue   
Since the paper is handmade, some variation in thickness is unavoidable, but it is a thick envelope and high quality.
DETAILS

Includes:
A1/ 4 Bar envelope 
This item is available in packs of 10, 25, 50, 75 or 100 envelopes. 
MATERIALS USED
Finest quality cotton paper with leather finish (which is also handmade from recycled cotton rags). 
SIZE AND PRICING
This Assembly Includes
Format
Size
Pack of Small Envelope
A1/ 4 Bar
5 1/8"x 3 5/8"
Note: Coordinating Stationery is available. Please email us for details.
PROOFING
Not applicable for this item
SHIPPING AND SHIP OUT DATE
Most orders are fulfilled and shipped out in 10 business days (2 weeks). Select rush order option for fulfillment in 1 week.

Shipping is calculated once the item is added to the cart. There are 2 options for shipping: First Class Mail of the total cost) and 2 to 3 day priority. Please review additional shipping policies under 'Policies and Procedures' tab before you place your order with us.
INTERNATIONAL ORDERS
Please review additional policies on international orders under the 'International Customers' tab, before you place your order with us.
-----------
If you need to find out more about the product before ordering, we encourage you to reach out to us. Please use the Contact Us form or email us at info@samvadiyacards.com. We will be in touch with you within 24 hours!