Blue Floral Chiffon Money Envelope Gift Box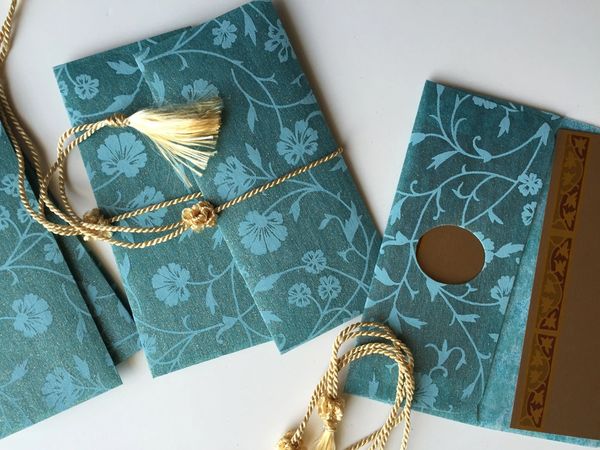 Comes beautifully packaged in a gold card box - a perfect gift!
This Monetary / Money Gift Envelope is made from beautiful blue floral print paper which is 'fabric like' but strong (paper type H, see Samvadiya Paper Classification, under Samvadiya Resources tab) . We embellished these envelopes with a silk tassel! We even added antique gold metallic paper insert to help you add a personalize message. Another innovation that Samvadiya Stationery has brought to it's clients!
These are perfect to gift wrap a cash gift if you are the attending a wedding.
Monetary/ Money envelopes are typically used in Asian countries by elders to gift an amount to young as blessings on festivals such as Diwali, Rakhi (Raksha Bandhan), Eid, and others. It is also used to gift monetary amount at weddings, house warming events and naming ceremonies.
Approximate size: (6.23" X 2.75") - fits a dollar bill. le)
This set includes 8 insert cards, 8 money envelopes and 8 tassels.

(These are perfect to make a bulk buy and personalize them if you need to give out cash gifts to special family members. If you wish to personalize the inserts, we'd be happy to do that for you. Minimum quantity for personalized version is 25 cards along with the envelopes. Also note the availability of this handmade paper cannot be guaranteed but we usually can offer you a different equally beautiful paper. We appreciate your flexibility.) le)