Corporate A2 size Thank You Cards, Crane paper, personalized, earthy orange gold elephant envelopes - Set of 25 (Free Shipping within US)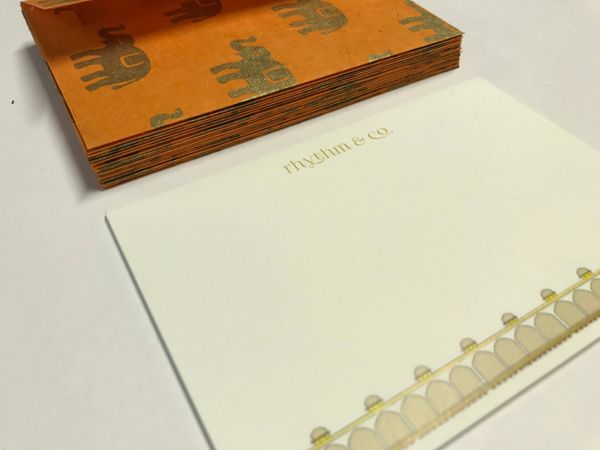 Need Help?
Contact Us
with a email or phone number and we will be in touch with you shortly!
---
ABOUT THIS PRODUCT

Elegant and high quality corporate or business Thank you cards! Handmade equals love and care, and these are hand made with love and care, in-house at Samvadiya Studio.
The Thank you cards are made from Crane cardstock - the finest paper in the stationery world. These also come personalized/ printed with your name or your business name and a thank you message in the center of the card.
For traditional elegance, Samvadiya coordinated these cards with handmade envelopes - handmade in-house from the finest quality cotton paper (which is also handmade from tree bark), with orange and gold elephant pattern.
Cards are also has a architectural border printed on the bottom edge.
DETAILS
Pack includes:
25 A2 Size note cards made from 110 lb Crane cardstock
25 A2 Size handmade envelopes made from high quality handmade paper with diamond print
(A2 size is approx 4.25" by 5.5")

MATERIALS USED
Business cards are made from Crane cardstock
Envelopes are made from decorative paper printed with a diamond pattern as shown in the pictures. This paper is made from cotton rags and is 100% recycled.
Printing and personalization is included in pricing. In order to personalize, please enter custom text (replacing the text in light brown in top left corner) in the text-box 'Name to be printed on the top left corner'.
SIZE AND PRICING
This Assembly Includes
Format
Size
Card
A2 Flat
4.25"x 5.5"

Envelope

A2
4.33"x 5.75"
Note: This product is also available in following sizes:
A1, A6 and A7 (pricing varies, so please email at info@samvadiyacards.com
PROOFING
This product is not proofed for this order size. Font size, position and font color will be preserved as shown in the photos.
SHIPPING
Shipping within US is free for this item.
INTERNATIONAL ORDERS
Please review additional policies on international orders under the 'International Customers' tab, before you place your order with us.
Please note that we will confirm the delivery date upon the receipt of the order. If, you'd like to discuss the delivery date prior to placing the order, contact us or email us.
---
If you need to find out more about the product before ordering, we encourage you to reach out to us. Please use the Contact Us form or email us at info@samvadiyacards.com. We will be in touch with you within 24 hours!