Indian Wedding Invitation and RSVP Card - 'Jaipur Arch and Ganesha' with rust metallic cover from Samvadiya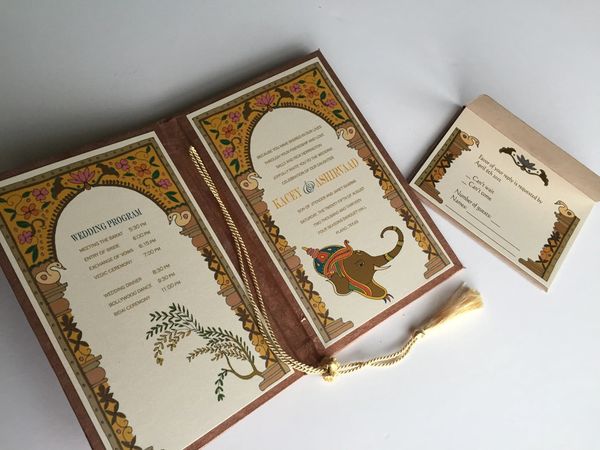 To order this Item please
Contact Us
with your email and phone number.
---
ABOUT THIS PRODUCT

Presenting a collection of dream invitations from Samvadiya! Here is some of our recent work that will take your breadth away. With this collection, Samvadiya aspires to reach new heights of creativity with its continuing quest for capturing the essence of 'Indianness'.
These compositions are created by the artist to bring out the extra ordinary and the quintessential opulent presentations of Rajput and Mughal era. Some of these compositions will remind you the thriving creativity of the 'Golden Age' while other will seek to set new trends for the Wedding Samadiya!
Here's 'The Jaipur Arch with lovely Ganesha' - a very traditional invitation in a very new format!
'.
DETAILS

Basic set includes:
Hardbound folder with two invitation panels mounted on the inside
Outer envelope sleeve to hold the hardbound invitation
A1 size flat RSVP card
A1 size RSVP envelope
MATERIALS USED
The Jaipur Arch with Ganesha' is hard bound book cover finished with rust metallic handmade paper on the outside. Please note the natural handmade paper used for the hardbound cover may have blemishes and some dirt marks because it is dried in sun - however these contribute to the character of the paper.
The inside invitation panels are made from shimmery ivory paper. This design is printed with high quality digital printing and the invitation is finished with a tassels around the belly.
The left panel holds the invitation and the right panel holds the wedding program - however the content of the right panel can be used for any supporting event/ information you may desire.
SIZE AND PRICING
This Assembly Includes
Format
Size
Invitation Panels
Flat
4.75" x 8.75"
Invitation Folder
Hard bound book cover
5"x 9" (approx)
Invitation Outer Sleeve
A9 size
Fits 5"x 9" invite
RSVP Card
Flat
3"x 5"
RSVP Envelope
A1 or 4 Bar
3-5/8 x 5-1/8
Note: Coordinating Wedding Stationery is available. Please email us for details.
PROOFING
Please review our policies for proofing under 'Policies and Procedures' tab before you place your order with us.
SHIPPING
Please review our shipping policies under 'Policies and Procedures' tab before you place your order with us.
INTERNATIONAL ORDERS
Please review additional policies on international orders under the 'International Customers' tab, before you place your order with us.
When you are ready to place your order, please enter the required quantity, desired delivery date and text for invitation and RSVP card in the space provided above.
Please note that we will confirm the delivery date upon the receipt of the order. If, you'd like to discuss the delivery date prior to placing the order, contact us or email us.
---
If you need to find out more about the product before ordering, we encourage you to reach out to us. Please use the Contact Us form or email us at info@samvadiyacards.com. We will be in touch with you within 24 hours!