Wedding Congratulations Card and money folder, money envelope, monetary currency, Gift Card holder, purse on gold embossed Ivory - Set of 4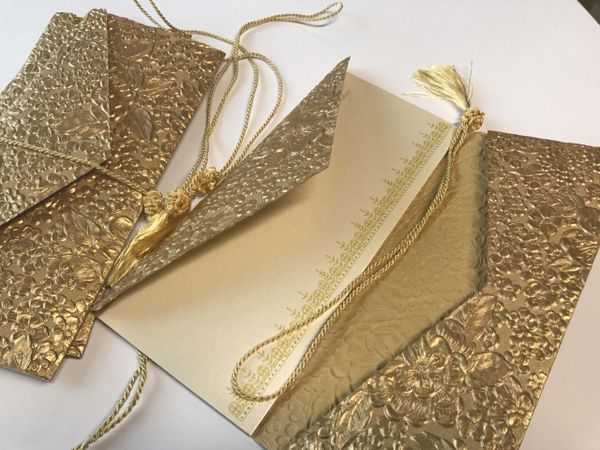 Need Help?
Contact Us
with a email or phone number and we will be in touch with you shortly!
---
ABOUT THIS PRODUCT

Ideal Money Folders for guests attending a wedding, house warming, birthdays or any other occasion! Gift wrap in style, your cash or monetary gift for those who you love.
The outside has a beautiful burgundy gold leaf design and the interior holds a blank card with a 'Best Wishes' phrase printed and space for you to add a personal message. It also has a pocket to include a monetary gift/ gift card/ personal check/ dollar bills.
A final touch with a silk tassel makes these folders a beautiful wrap for a special wedding gift of love! Another innovation that Samvadiya Stationery has brought to it's clients!
DETAILS

Includes:
4 money folder made from heavy weight embossed gold paper and ivory printed card attached inside



4 silk tassels to close the folder
MATERIALS USED
Finest quality cotton paper (which is also handmade from recycled cotton rags). Embossed with beautiful floral design.
SIZE AND PRICING
This Assembly Includes
Format
Size
Pocket fold and attached insert cards.
(Optional outer envelopes)

Pocket Fold,
Size 10

3.5' by 9.25

"



Note: Coordinating Wedding Stationery is available. Please email us for details.
PROOFING
Not applicable for this item
SHIPPING
Please review our shipping policies under 'Policies and Procedures' tab before you place your order with us.
INTERNATIONAL ORDERS
Please review additional policies on international orders under the 'International Customers' tab, before you place your order with us.
When you are ready to place your order, please enter the required quantity, desired delivery date and text for invitation and RSVP card in the space provided above.
Please note that we will confirm the delivery date upon the receipt of the order. If, you'd like to discuss the delivery date prior to placing the order, contact us or email us.
---
If you need to find out more about the product before ordering, we encourage you to reach out to us. Please use the Contact Us form or email us at info@samvadiyacards.com. We will be in touch with you within 24 hours!